Homo naledi is a newly discovered extinct species of hominin - the group of animals that includes humans, chimpanzees and bonobos. It was discovered in the Dinaledi Chamber of the Rising Star Cave System, which is located near Johannesburg, South Africa, in an area referred to as the Cradle of Humankind.
Cavers found the fossils in October 2013. Excavations in November 2013 and March 2014 retrieved over a thousand bones representing at least 15 individuals, making the find the largest collection of a single species of hominin found in Africa. Thousands of bones and teeth are thought to remain in the cave.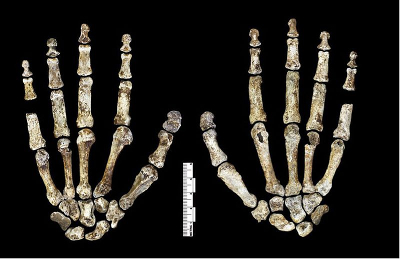 There are numerous samples of most of the bones, giving researchers a wealth of information about these individuals. H. naledi was similar in stature to a small-bodied modern human, but with a brain about half the size. The skull is shaped like that of early hominins that lived from approximately two to four million years ago, long before modern humans appeared. The species also has relatively small teeth with less complex chewing surfaces.
Its humanlike hands would have made H. naledi adept at manipulating objects. While the femur and tibia have unique shapes not found in other species, the lower limbs and feet suggest that it walked more like Homo sapiens than apelike hominins. Other parts of the body, including the trunk, shoulder, and pelvis, appear to be more archaic. With long, curved fingers and primitive shoulders, this species would have been well-suited for climbing.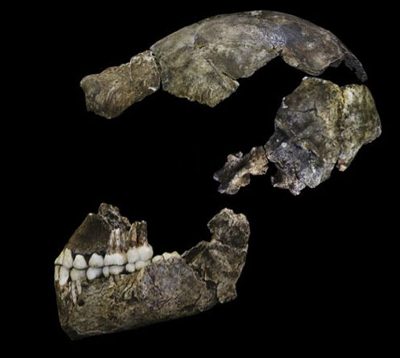 The combination of traits found in this collection of fossils cannot be attributed to any known hominin. According to researchers, their uniqueness, along with the remarkable similarity of the 15 individuals, indicate the existence of a new species. Anthropologists have placed it within the genus Homo, due to human-like features throughout the skeleton, particularly in the hands, feet, lower legs, and teeth. The fossils have not yet been dated, and their age is currently unknown.
Until recently, anthropologists believed that modern traits such as increased brain size, a human gait, and nimble hands emerged simultaneously. However, H. Naledi and other recently discovered species, such as Homo floresiensis and Australopithecus sediba, demonstrate that these characteristics have been combined with more primitive features in various configurations.
The find also has significant implications for our understanding of early hominin behavior. The remarkable amount of bones concentrated in a nearly-inaccessible location, along with the relative lack of animal remains, suggest that H. naledi deliberately buried the bodies there - a behavior believed exclusive to later, larger-brained humans.