The Arc de Triomphe de l'Étoile is a world famous triumphal arch located in Paris. It is considered a symbol of the French nation.
Commissioned by Napoleon Bonaparte after the Battle of Austerlitz, the Arc de Triomphe is located at the center of Place Charles de Gaulle (formerly Place de l'Étoile).  Sixteen of the boulevards of Paris, including the renowned Champs-Élysée radiate outward from this grand monument.
The Arc de Triomphe is 164 feet (50 meters) high, 148 feet (45 meters) wide and 72 feet (22 meters) deep. It can be seen from almost every spot in central Paris and is so big that in 1919, Charles Godefroy, a French aviator, was able to fly a biplane through it.
It was designed by Jean Chalgrin, in the Classical Roman style, and was inspired by Rome's Arch of Titus.  Construction of The Arc de Triomphe took 30 years.  Chalgrin died in 1811, before it was finished.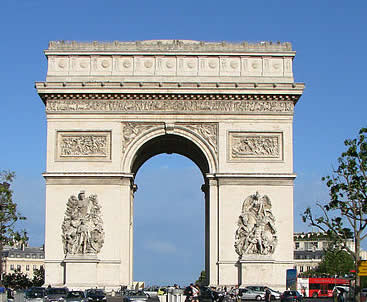 Some of the greatest sculptors in France created the friezes that decorate the arch.  The scenes on the arch commemorate all of France's wars.
François Rude's famous sculpture, Departure of the Volunteers of 1792, more commonly known as La Marseillaise, can be found on the Arc de Triomphe's right face.
Jean-Pierre Cortot's The Triumph of Napoleon is on the left face.
The names of battles in which Napoleon was victorious are inscribed on the arch's columns.
On the inner walls, there are the names of generals of the First French Empire. Those who died in battle have their names underlined.
The Arc de Triomphe has an attic with a frieze that depicts French soldiers.
Above the arch are 30 shields that list victories in the Revolution and the Napoleonic Wars.
There is an observation deck at the top of the Arc de Triomphe.
Underneath the arch is the Tomb of the Unknown Soldier, who was interred in 1920 on November 11 - Armistice Day.   An eternal flame burns inside the tomb, and a remembrance ceremony is held here every Armistice Day.