The Vale of Kashmir is a rich, fertile valley in between the Great Himalayas and the Pir Panjal mountains.
At an altitude of over 1,600m (5,000ft), the Vale of Kashmir has a much milder climate than that nearby regions in India and Pakistan. It is spared the bitter cold of mountain winters and the searing heat of lowland summers.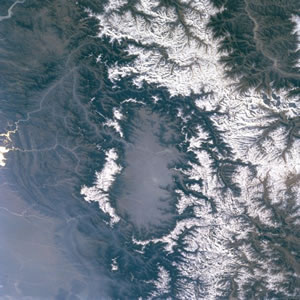 Because it is on the edge of the monsoon belt, it does not experience the marked wet and dry seasons associated with the rest of the Indian subcontinent.
Formation of the Vale of Kashmir
Around 60 million years ago, the Indian subcontinent collided with Asia, forcing the Himalayas upward. The Earth's crust around them was distorted into many ridges and folds. The fold that became the Vale of Kashmir was 900m (3,000ft) deep, 140km (87mi) long and 32km (20mi) wide.
Water from melting glaciers and rain-swelled mountain rivers filled the depression to form a huge lake. Silt and rocks brought down by the rivers were deposited on the lakebed. Simultaneously, the river draining the lake cut a notch in the surrounding mountains.
Because of this deposition and erosion, the lake eventually disappeared, leaving a valley covered in sedimentary layers more than 600m (2,000ft) deep. Today, the fertile land is drained by the Jhelum River, which meanders through lakes, marshes and paddy fields, eventually flowing out of Kashmir at Baramula.
Amarnath Cave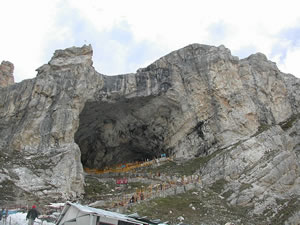 Amarnath Cave, the site of one of the great Hindu pilgrimages, lies in the mountains, 140km (87mi) to the northeast of  the city of Srinagar.
The cave contains a large column of ice formed by water that trickles steadily trickling from a natural spring and then freezes in the cold air.
Hindus believe the ice column is sacred to Shiva, their god of creation and destruction. They also believe the column waxes and wanes with the moon. Around midsummer, especially at dawn on the day when the moon is full, thousands of pilgrims arrive from Srinagar to throw flowers on the column and to pray to Shiva
The Mughal Empire
The Emperor Akbar, who ruled the Mughal Empire from 1556 to 1605, conquered the Vale of Kashmir in 1585. He made Kashmir his summer capital, because it was close to the Mughals' power base in Delhi and near to the trade routes over the mountains.
The cool climate provided welcome relief from the heat and dust of the Ganges and Indus valleys.
The Mughals turned Srinagnar into a lavish summer resort with luxurious gardens and palaces.