Westminster Abbey is a place of worship located in the city of Westminster, London, England, and the coronation site of every English monarch since 1066. The site has also hosted 16 royal weddings. The Abbey is a Royal Peculiar administered directly by the Crown; it is subject to a Dean and Chapter, rather than a bishop or archbishop.
King Edward (St. Edward the Confessor) established the Abbey when he significantly expanded a small Benedictine monastery located at the site, and converted it into a church dedicated to St. Peter. It garnered the name "west minster" due its geographic location west of St. Paul's Cathedral (the east minster). King Edward was too ill to attend the church's consecration on December 28, 1065, and died shortly thereafter. He is buried in the chapel behind the main altar.
King Henry III rebuilt Westminster Abbey in a Gothic style in the Thirteenth Century. The new building was consecrated on October 13, 1269. While this is the structure that stands today, other monarchs have made their mark on the famous site. King Henry VII added the Lady Chapel in 1516, and the western towers that were begun in the sixteenth century and disrupted by the Reformation were finally completed in 1745.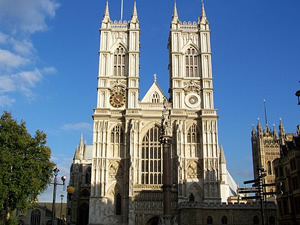 With the exception of two kings who died or abdicated before their coronations, every English monarch since William the Conqueror (1066-1087) has been crowned at the Abbey. The Coronation Chair, which was first used by Edward the Confessor in 1296, is on permanent display there.
Westminster Abbey is considered an excellent example of Early English Gothic architecture. It is also known for the Cosmati pavement, a unique mosaic of geometric patterns located in front of the High Altar. It was installed by Roman workmen in 1268, under the direction of Henry III.
Approximately 3,300 monarchs and national figures are buried or commemorated within the Abbey's walls, including Queen Elizabeth I, Geoffrey Chaucer, Charles Darwin, Charles Dickens, Sir Isaac Newton, and George Frederic Handel. It remains open to the public as a place of daily worship.