Amboseli National Park is located in Kenya, in the Rift Valley Province, in the shadow of Mount Kilimanjaro - the highest mountain in Africa.
It is about 160 miles (260 kilometers) from Nairobi.
The park is near the Tanzanian border.  (Mount Kilimanjaro itself is in Tanzania.)
It is covered in savanna and tropical grassland.
The region does not get much rain - an average of only 14 inches (35 centimeters) per year - and much of the land is dusty and dry.  Lake Amboseli, which was formed in the Pleistocene era, is now a dry basin that becomes a true lake only after it rains.
However, underground rivers are nourished by melting snow from Kilimanjaro.  At the base of the mountain, springs and swamps that are fed by these rivers help to support a large variety of wildlife, including lions, cheetahs, hyenas, monkey, impalas, wildebeest and zebra. The black rhinoceros, a critically endangered species, is found here.
This is one of the best places in Africa for elephant-watching.  A herd of about 900 elephants lives here.
More than 400 species of bird are native to the region.
The area has been home to the Masaai people for hundreds of years, and the Masaai continue to live here.  Throughout the park, there are temporary Masaai dwellings known as manyatta. They are made out of bent branches that are sealed with cow dung.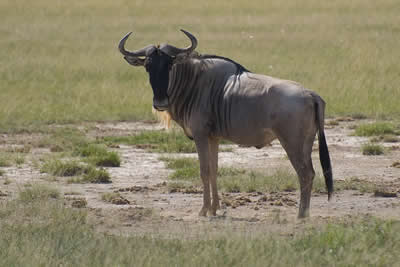 Many of the Masaai gain an income from wildlife tourism.
Joseph Thompson, a Scottish explorer who came here in 1883, was the first European to arrive here.
The British government declared the area an official game reserve in 1899, when Kenya was still a British colony.
Ernest Hemingway wrote about big game hutting here.
Amboseli was designated a national park in 1974, after Kenya became independent.
It was declared a UNESCO biosphere reserve in 1991.
What is the Great Rift Valley?
The Great Rift Valley is a 4000-mile-long trench that runs through Africa, from Syria to Mozambique. It started to from 25 million years ago, and it is still spreading. Eventually, it will cause Africa to split.
Geological activity in the region has caused earthquakes and eruptions to occur. It is responsible for much of the beauty of the landscape.
Volcanic activity created Ngorongoro Crater, one of the most biologically diverse places on Earth.
This was the home of our earliest ancestors. Fortunately for archeologists, layers of ash form volcanic eruptions preserved their remains. Some of the oldest hominid fossils have been found in Olduvai Gorge, known as the "Cradle of Mankind."