Angel Falls (Spanish: Salto Ángel) is the world's largest waterfall. It is located on the Churún River in Bolivar State, southeastern Venezuela. The water free-falls 3,212 feet (979 metres) into the Venezuelan jungle from a table-topped mountain or plateau referred to as Auyán-Tepuí, which means "Devil's Mountain." The falls extends 500 feet (150 metres) across at its bottom. Due to the thick forest surrounding the falls, it is best viewed from above.
American pilot Jimmie Angel became the first outsider to sight the falls while working as an aviator/guide for the Santa Ana Mining Company of Tulsa, Oklahoma. Angel was reportedly flying over the jungle in search of a gold-laden river when he nearly crashed into it. He described what he found as a "mile-high waterfall," based on altimeter readings from his aircraft.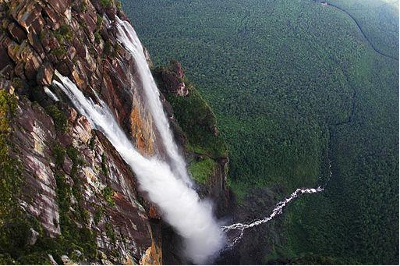 When he touched down on a return flight in 1937, the plane landed roughly and foundered in mud, stranding Angel, his wife, and a friend in the remote jungle area. The group managed to reach the nearest settlement, and their story made the waterfall famous.
While later measured at less than a mile in height, the towering feature was named in Angel's honor. In 2009, Venezuelan President Hugo Chávez officially renamed the falls Kerepakupai-Merú, an indigenous name meaning "waterfall of the deepest place."
Angel Falls is one of several waterfalls located within Venezuela's Canaima National Park. The park also contains many mesas, or tepuís, that are similar to Auyán-Tepuí. These sandstone mesas are thousands of feet tall and nearly flat across their summits, with sheer vertical walls. The mesas support ecosystems that are distinct from those of the surrounding area, due to their unique environmental conditions. The tepuis, which are millions of years old, originated as sediment hundreds of millions of years ago, when South America was joined with Africa. The tepuís are important to the spiritual beliefs of the indigenous Pemon people, who believe they are the home of spirits.
The Venezuelan government established Canaima National Park in the area in 1962. UNESCO designated the park a World Heritage Site in 1994. The park is remote, and visitors must travel for several hours by riverboat and foot to view the falls. However, many adventurers from around the globe travel to Venezuela and trek to Angel Falls each year.
Photo credit: Angel Falls by Luis Carillo, Venezuela [CC BY 3.0], via Wikimedia Commons